Chamfer Engineering
Hardfacing Technical Notes - Chamfer-Plate™
How To Identify High Quality Hardfacing

High Quality Chrome Carbide Wear Liners:
contain stress cracks
have a smooth clean surface
have a high quality chemistry
Chamfer Plate Backing Qualities
High Quality Backing Plate:
absorbs impact
is ductile
is easy to weld
Fabrication Methods
Cutting, Piercing, or Gouging:

plasma cutter (preferred)
water jet (for accurate cutting)
arc/air torch (recommended for field use)

Forming

Welding
Fastening Methods
Plug Weld Mounting

Overlay will perform best when plug weld mounting is done on the back of the plate. If there is a need to provide plug weld mounting on the front or "top" of the plate, the weld can be capped with hardfacing.
Stud Weld Fasteners

A steel stud welded to mild steel back vertical to the plate backing.
Countersunk Fasteners

Heads may be surfaced with weld to provide extra protection from washout.
Edge or Backside Weld Mounting

Because you will be welding to mild steel, no special procedures are required. In dynamic loaded structures, it is desirable to seal the mating surfaces with a weld layer (or root pass) of type 312 stainless to prevent carbides from drifting into the weld zone. Weld joints exposed to abrasive wear may be capped with appropriate hardfacing material.
Common Plate Thickness
(alternative thicknesses are available upon request)
| Overlay Thickness | Plate Thickness |
| --- | --- |
| 1/8" | 3/16" |
| 1/8" | 1/4" |
| 1/4" | 1/4" |
| 3/8" | 3/8" |
| 1/2" | 1/2" |
| 1/2" | 1" |
| 1/2" | 1 ½" |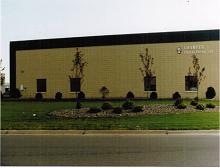 Chamfer Engineering, Inc.
8821 Zealand Avenue North
Minneapolis, MN 55445
Phone: (763) 424-5053
Fax: (763) 424-4333
Email: info@chamferplate.com
Web: http://www.chamferplate.com/
Revised: February 14, 2013 / Web page design by Kevin G. Austin